Alright, here's the thing. I don't usually like to dissect my tweets, but there is one that requires a little explanation and defending. Last night I tweeted this and went to sleep:

This morning I woke up to several responses to that tweet, not all of them as poorly-worded as this guy, who apparently likes to go around the internet calling people idiots. To be optimistic, I'm grateful that I didn't get the F-word adjective at least: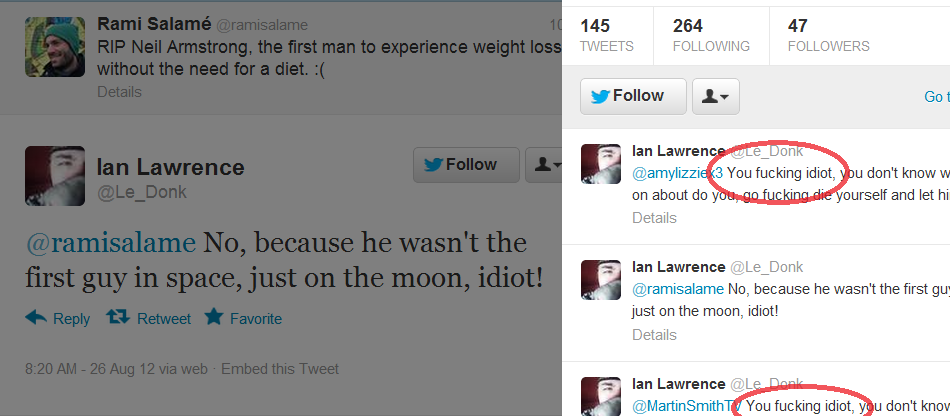 There were a few more responses that I'll add on the bottom, but there was one more response that particularly compelled me, mostly because Kevin decided to come out of his silence just to speak up for his belief that I was wrong. His first ever and only ever tweet was for me, and I'm honored:

Let's get down to it, then.
You see, anyone who's ever attended school — hell no, anyone who's been near a school, or drove past a school, or just heard of school — knows that Yuri Gagarin was the first man to journey into outer space. This is not new information, so we can stop throwing it at people like it's a revelation. And, since we're on the topic, I underlined "journey" because the first man in outer space, technically, was Alexei Leonov, who went outside of the space vehicle and 'walked' in outer space. I've had the luck and privilege to interview Mr. Leonov in 2006 for a publication, when he visited my university. But that's just me showing off on that last one, sorry.
Moral is, Yuri Gagarin is not news. What seems to be news here is weight loss vs. weightlessness.
Continue reading 'on weight loss, Neil Armstrong and twitter's watchdogs' »